Studyfun and Tatung Czech Republic sign MOA to set up first Smart Classroom reference school in Europe
Views:47 Author:Site Editor Publish Time: 2017-02-24 Origin:Site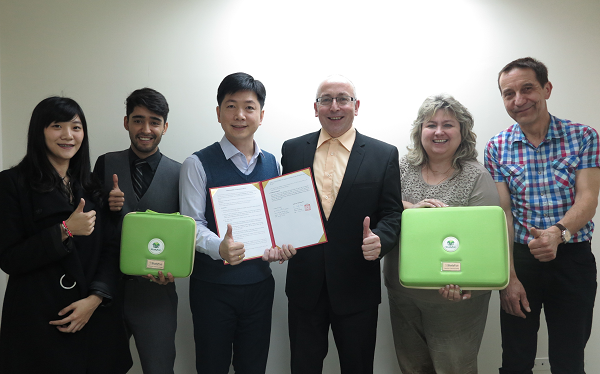 On February 23rd 2017 StudyFun received Tatung Czech Republic delegates in Taipei to attend a meeting in where both companies will become official partners for future cooperation's in bringing "StudyFun Interactive Teaching System" to the Czech Republic.
The meeting counted with the presence of the honorable Deputy Major of Pisek City Mr Horanek, one of the former members of the first Smart city Project in Pisek City and the Headmaster of Pisek secondary school teacher Mrs. Maoleova. In cooperation with Tatung and teacher Maoleova. StudyFun will be launching his first pilot reference school in Czech Republic this next March 5th 2017
European market is a very strategic main target market for StudyFun who has cultivated clients from that region for a couple of years. The Czech version of StudyFun system and the mature marketing materials that had been provided to the delegates of Tatung Czech Republic as well as the deputy major of Pisek city in the Czech Republic had give the guest outstanding impressions.
Deputy Major Mr Horanek explained: "There is no other company in Taiwan that has provided complete Czech language version and that improve the learning environment of students by bringing more interactive and fun activities, that is our main competitive advantage in the Czech Republic". The presentation was brilliant and showed the ambition of StudyFun to create presence in the European market.
Andy Tsai, the vice president of StudyFn, expressed his full support and enthusiasm for bringing a complete teaching solution to build up the first Smart classroom school in Pisek City. "We are introducing this new system in the Czech Republic and seeing positive ideas coming out of this meeting" Said Andy Tsai.
StudyFun is revolutionizing the way teachers and students, organize themselves, share knowledge and interact with each other by bringing better e- learning solutions that can benefit every users in education by creating more Smart classroom oriented environment