StudyFun speaks at BETT Brazil Educar!
Views:13 Author:Site Editor Publish Time: 2016-06-13 Origin:Site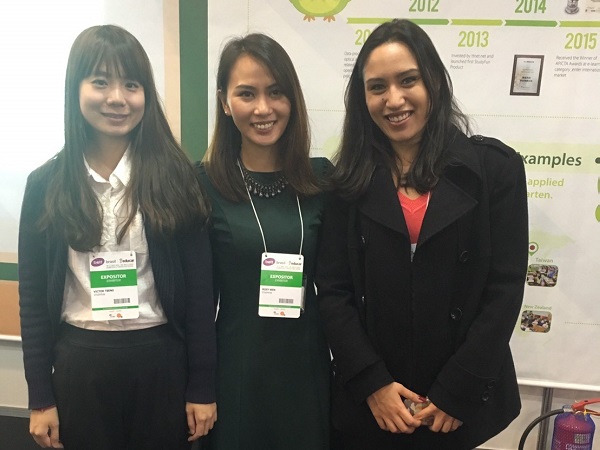 We amaze Latin America by introducing StudyFun Smart Classroom
StudyFun expands its target market to Latin America this year 2016, after successfully footing in Southeast Asia and Middle East market. Being the first Taiwanese education company to explore the South American market, we starts from attending the BETT Brasil Educar 2016 in São Paulo, where lots of leading education companies from Brasil all gathered in this big exhibition. We have many visitors from South America countries and also Brasil local school teachers and officials coming to our booth, they all show great interests in our StudyFun Smart Classroom, which enables teachers to prepare courses and show to students easily in the classroom by iPad, and teachers could know every students' learning progress through our instant quiz function. Not only for teachers, our system also provides platform and application for schools and parents to track children's learning status. We especially upgrade our product into Spanish and Portuguese language version for Brasil and South America. StudyFun will be leading a new trend of k12 education in Latin America by introducing the smart, user-friendly, interesting StudyFun Smart Classroom, we will work with local partners to promote our product to all the kindergarten and primary schools in Brasil and to the other South American countries.
First of Taiwan! StudyFun attends Bett Brasil Educar to expand K12 market
Brasil, the world's 6th big education market, also the largest primary and secondary education market in Latin America, holds the education exhibition BETT Brasil Educar 2016 from May 18th to May 21st in São Paulo, its biggest economic and commercial center. Over 200 exhibitors from all over the world join this great event, StudyFun being the only company from Taiwan, attends this exhibition to show our Taiwanese great education product to South America.
Fun and easy! StudyFun Smart Classroom amazes distributors and schools visitors
Unlike most of the exhibitors demonstrate lecture books, e-white board, tablets or software, StudyFun shows the easy-to-use StudyFun Smart Classroom to the public. Teachers use iPad to show materials and interact with children easily and students use e-pen and e-pad to respond, teachers can know every students' learning progress and make learning and quiz with more fun by using abundant interactive tools. The product attracts distributors from Brasil as well as other countries in Latin America. Besides distributors, our product also surprises many teachers, principals and officials of local Brasil school. They are looking forward to apply this smart system in their teaching to raise students' learning interest and efficiency.
We are looking for more distributors to expand local education market together. The BETT Brasil Educar is just a beginning, we will promote our system to every corner of Latin America, giving children a different future with more possibility.