StudyFun and Tatung company officially introduce StudyFun interactive teaching system in the Czech Republic
Views:70 Author:Site Editor Publish Time: 2017-04-27 Origin:Site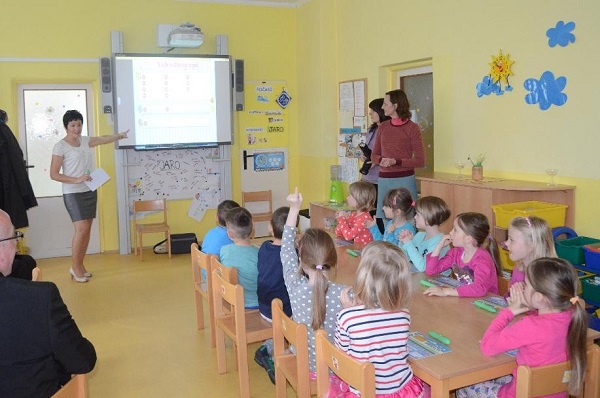 April 20th was the day that Studyfun in cooperation with Tatung Company officially introduced a new interactive teaching system in Pisek City, Czech Republic.
This event counted with the presence of the honorable Ambassador of Taiwan Joey Wang Chung-I, , Tatung Czech republic delegation, representatives of Pisek City and teachers from Kindergarten Erben
During the Product launch event demonstration Jarmila Svobodova Director of the first selected pilot project in the Kindergarten Erben, demonstrate how kids uses the interactive boards and pencils to solves various task.
Director Jarmila Svobova also explain that with this new interactive system teachers can manage all class aspects, for example; They learn colors, words, logical thinking- all at selectable levels of difficulty. After finishing class all the output from the fun tests and quizzes and lessons is also used as feedback for teachers and parents.
Pisek city Deputy mayors at the conference event played an important role, explained Jaroslav Tauber, Tatung Representative in the Czech Republic ."We believe that with their cooperation of Pisek City we can apply this unique Smart Classroom solution in more schools, this system will help improving the process of learning in kindergarten and primary schools and can be used in language schools for enhancing learning languages. We will be running 2 more pilot schools in Pisek city, before presenting the complete solution to the Ministry of Education of Czech Republic said Jaroslav Tabuer
The main Strategy of StudyFun and Tatung Czech Republic is spreading our solutions and services all around Europe and others continents providing better learning experiences to the kids of today's changing world.