First Model School in Quang Ninh, Vietnam Is Now Open!
Views:12 Author:Site Editor Publish Time: 2016-03-26 Origin:Site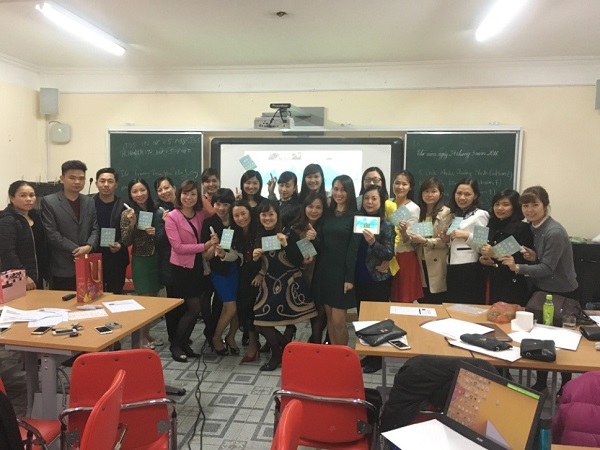 Have you ever heard of Quang Ninh Province in Vietnam? If not, at least you must have heard of Ha Long Bay, which is one of the New Seven Wonders of the World. It is famous for hundreds of thousands of Karst topographic islands in the sea and it is located in Quang Ninh Province, where StudyFun Technology Inc., MiTAC Information Technology Corp. and AIC Vietnam Co. have been to build up the first model schools in Vietnam. This time, StudyFun hosted one day demonstration class of 'StudyFun Smart Classroom' system and work shop for 30 primary and kindergarten teachers. It was a significant event for the schools and Ministry of Education (MOE) demonstrating how Vietnamese teachers make big progress on e-Learning.
These 30 teachers showed ambition and confidence as the modern citizens of Quang Ninh Province. They are very passionate on teaching and active to express personal opinions. Despite their previous experience with digital technology products, it was their first time experiencing such user-friendly, instantly responsive product in 'StudyFun Smart Classroom System'! By using the patented interactive tools of Smart Classroom, every teacher could experience how fun it is as a student during the class. The teachers kept asking for more quizzes and competitive games because they didn't want to end this amazing class with StudyFun.
During the work shop, teachers gave many outstanding demonstration lessons by utilizing Random Roll Call, Racing Game and e-White Board functions. This way, they could enjoy the interactive methods as much as they could when they were on the stage! Due to their amazing effort, the class was filled with joy and excitement. This successful and first model school training program finally realized the meaning of efficient digital technology on teaching and shows the technological progress on e-Learning in Vietnam. In the near future, we would love to see more schools and teachers become the users of StudyFun Smart Classroom. Let's give our kid from every corner of the world a better education environment!